Tamar has officially announced the name of the Herbert's little boy!  Meet Logan Vincent Herbert!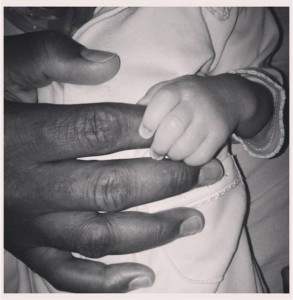 This picture was posted by Tamar on Instagram to wish the new daddy, Vince a "Happy Father's Day".  WE can't wait to see official pics of this little cutie.
Tamar is auditioning dancers for her showcase with LaShawn, Terrell and Nina, but she may be one judge short once those men start taking to "dance and prance."  T&VQuote: "I'm not saying you look at the thrust, but…"  T&VQuote: "I'm not sitting there to watch men dance and prance all over the place while Tamar and Terrell are getting their kicks off."  But, if WE had our way WE would give Nina the dancing spotlight.  She is INSANE!!  Now, upon Tamar's request for topless auditions LaShawn assumes the role of "thrusting police" and tries to get Tamar to turn her chair around.  Looks like you should be the one having several seats!  However, Vince thinks Tamar's request is unprofessional and rude… WE think he's masking some jealous feelings.  As the four deliberate on muscles verses slenderness, Terrell wants Tamar to get up there to see what she looks like with these dance hopefuls.  T&VQuote: "Not in these 'Rhythm Nation' 1914 boots."  Tamar agrees that everyone is right, and Daniel and Brandon are the best choice for the showcase… then she and LaShawn leave quickly before they are forced to fire anyone.
Tamar and Vince decide to take a small break from the showcase pressure and head to Vegas for the night.  LaShawn and April accompany the couple on their trip, and discuss all the progress each couple has made with therapy and some good, old fashion openness.  T&VQuote: "It always gets a little crazy before it gets better.  We are knocking on better's door."  Vince has a big surprise planned for everyone, but WE have a feeling Tamar will be the one that is really surprised.
T&VQuote: "Oh my God.  We at the church.  This is my surprise?  That ain't no surprise.  I go to church all the time."  But this church is a little different… they only specialize in the renewal of vows and the frequent quickie nuptials.  And in true Vegas fashion, they will be married by Elvis.  This wedding is positively cute and HAMtastic all at the same time between April's walk down the aisle, LaShawn's sing-a-long to "Amazing Grace" with Elvis, and of course, Tamar.  T&VQuote: "Only in Vegas would I be getting marries in a see through leopard dress by somebody who spends more time on their wig than I do."  It is super sweet that Vince put this all together, but that all goes to the side as Tamar serenades Vince her vows.  LaShawn can't even keep a straight face!
Now that Tamar is back from Vegas, it is time to get to work on this showcase!  First stop is the studio to practice her performance with Nina and the dancers.  T&VQuote: "So I'm slightly concerned watching my sister, Tamar do these dance moves.  I know she can smash down on them, But she's reserved today."  Tamar is clearly lost, and she will need another rehearsal to get this down.  T&VQuote:"When I think about the dance moves I forget the words, and this is starting to really affect my performance."
Tamar and Vince sit down to chat about the showcase, and how confident he is in Tamar's performance.  T&VQuote: "You weren't ready, but you're ready now."  Tamar is confident in herself, and wishes Vince would believe in her too.  She knows the songs, she knows the dances now, and she is reds to go.  T&VQuote: "Come on, Miracle.  Let's rock it!"
Tamar and crew have finally arrived at the showcase, and things are semi-bumpy between Tamar getting hung up on a chair while she is doing her sound check.  T&VQuote: "That old, ugly ass chair was here last night during rehearsal.  I hated it then, and I hate it even more right now."  Tamar goes off on everyone in the room, and with an hour and a half to go until show time, they need to get this resolved quickly.  Thankfully, Vince is there to calm her down… unfortunately, she does not want to be calmed.  Luckily, LaShawn is there to help out, Cartier, manicured hands, and all.
Toni has come to give support and help to Tamar.  Even if that means giving up her panties to help fix Tamar's wardrobe malfunction.  T&VQuote: "This wardrobe malfunction is the last thing I need in my life right now."  Tamar is running about 2 hours late, and is concerned about what people will think, and if they will get tired of waiting and leave.  Luckily, Tamar's stylist fixes the issue and she is ready to go on stage.  T&VQuote: "I'm just ready to do my thing, and go lay my ass down."
Tamar takes the stage, and from the moment she opens her mouth to sing "Love and War" you know this is going to be an amazing showcase.  Right after love and war, Tamar switches to another one of our favorites, "Hot Sugar" and the crowd instantly goes crazy.  The dance moves are crazy, Tamar's vocals are off the hook, and she simply kills it!  T&VQuote: "I mean, she did that!  I did my thing.  I am very happy for myself." Tamar has definitely proved her haters wrong, and this is only the beginning.
… stay tuned, Tamartians!
Tamar and Vince share a serious moment by the fire and chat about how Tamar and Vince feel about her upcoming showcase.  T&VQuote: "I think now is the time for us to do a showcase and get people excited, and show people what we've been working on so long."  Tamar and Vince agree this needs to be a blown out showcase where it "hits you in the throat where you are coughing and choking."  Everything needs to be on 10.  Vince is truly Tamar's #1 fan, but clearly Tamar is not Miracle's #1 anything.  T&VQuote: "Did you read his tweets today? He needs to be on punishment."
Tamar needs the perfect images to promote herself, and this means photos that showcase her image and style.  T&VQuote: "These photos need to define the Tamar look, and set the she/me/her apart from the rest."  Tamar has spent way too much time getting her songs on point, so she needs all the elements to come together in the ultimate package.  In order to achieve this ultimate package, Tamar puts together the ultimate dream team of Terrell, Larry, Walid and Ashley.  Vince has a clear vision for Tamar's shoot; he wants Tamar to look classic in order for girl to look up to Tamar and want to be just like her.  T&VQuote: "In order to be a super star, people have to want to look like you."
To get right and tight for her photo shoot, Tamar hits the gym with a palates new trainer and a new fabulous do!  She hits the machines for A LOT of leg exercises.  T&VQuote: "This is a little personal though!"  It also helps that the instructor is easy on the eyes too.  However, WE don't know how pleased Vince will be with all of this.  T&VQuote: "I ain't gonna be able to perform any wifely duties."
Much like her body, Tamar needs to get her voice in tip top shape… and enter Terence Lee Jones.  T&VQuote: "You snatched!"  Terence is IN LOVE with record, and just needs to make sure Tamar can confidently sing every note.  Terence speaks some truth to Tamar about always being on her vocal game.  T&VQuote: "This is your business."  Thankfully, unlike many before him Terence is able to get Tamar to actually stand up and sing.  Unfortunately, the vanity is a little too important right now and Tamar will not be sticking her stomach out for the sake of the notes.  Then poor Terence gets kicked out because Tamar has date night with Vince.  Poor man can't win!  She won't take his advice and then she shows him the door.
Tamar's photo shoot is finally here, and she looks FIERCE!  However, Vince's attention is completely on Miracle at the moment.  He's missing out, cuz she won!  T&VQuote: "Smoke makes me feel real expensive and stuff!"  Tamar is too much.  Tamar's look is practically the girl next store every boy dreams of, with a little bit of coy and a whole lotta sex appeal!  Walid really pushes Tamar to the limits when he asks her to pose on top of the marble fireplace.  This is going to be a sick shot if Tamar can overcome her fears long enough to pose.  As if this wasn't difficult enough, LaShawn has to come in and agree with Tamar.  T&VQuote: "I didn't know if Spiderman was shooting Fashion Week in New York.  I didn't know what was going on.  She looked like a burglar in her own home."  Luckily, Tamar pulls it together long enough for Walid to get some hot shots.  These photos are going to look amazing, and Vince looks extremely happy and proud.
After getting her model on, Tamar meets with Nisan, Gerald, and Nina to discuss choreography and sound.  Tamar does not want her first look to be all R&B.  T&VQuote: "I don't want ribs and bbq."  LaShawn is there to make sure Tamar explodes and the show is second to none.  In terms of "movement", Tamar doesn't want any ratchetness and envisions just her and two male dancers.  The showcase is really coming together.  T&VQuote: "She is ready.  Y'all better be ready."
With everything falling into place, Tamar still is on the workout kick.  She meets with Sheila to continue her pre-showcase regiment.  T&VQuote: "It's all about your will girl.  What are you willing to do?"  This is some bootcamp type shiz… was Sheila in the Army?  WE give Tamar a lot of credit.  She got through this tough workout and her hair still looks fab!
Terence is back to continue Tamar's vocal work on "Love & War" and we have a feeling the claws are going to come out.  And as if someone rang the Round 1 bell, Tamar and Terence argue about whether or not Terence is playing the song properly.  He even gets up from the piano and starts rattling off his resume!  Even LaShawn gets involved.  T&VQuote: "Now is this the remix?"  Now that they have figured out that Terence was playing the wrong chord, it is time to get down to business… or time for Tamar to walk out!  T&VQuote: "I can't worry about her diva moments right now.  I can't let this get in the way of my showcase.  This is the Tamar Show and this must go on."  At least LaShawn is trying to give some sort of advice to Terence.  However, if someone hires you to help them with vocals wouldn't it be wrong to just agree with the talent no matter what?  #justsayin
LaShawn shows up at the first showcase practice with Nisan and his band, and he stresses the importance of impressing Tamar.  The last thing LaShawn needs to here is, "Boo! Boo!!!!"  Poor keyboardist "Doogie Howser" is the first one to get the wrath of LaShawn, and the poor kid just ends up "yes, sir"-ing LaShawn to death.  After Tamar arrives, it is time for business… and by business, we mean Tamar listening to the band play before getting up the courage to sing.  Clearly, everyone is feeling the track between the air drum solos and the bobbing heads.  T&VQuote: "I consider myself blessed to have Tamar execute this record, and just make it come to life.  I almost cried."
This showcase is going to be off the chain… so until then!
Should Tamar's first single be "Hot Sugar" or "Love and War"?  Will she get her dance moves together in time for the showcase?  WE want to hear from you!
Michael Braxton FINALLY makes an appearance in sunny L.A. to visit Tamar and Vince. Tamar is happy to have her two favorite men in the same house… sorry Miracle!
With Pops in town, the golf course is the first stop. Vince and Michael have a great relationship, and Vince has really grown to see him as a father figure. Apparently the golf course is where men go to shoot the shiz, so Michael take this opportunity to give Vince some advice about his baby, Tamar… during Vince's swing. T&VQuote: "We argue because we are passionate about our relationship. What couple do you know that doesn't argue? And if they ain't arguing, that means someone's cheating." Vince affirms his commitment to Tamar, and Vince and Michael head off together for a root beer float.
Tamar heads to the studio to listen to the new track TC has written for her. Let's hope they don't clash heads today. T&VQuote: "I'm willing to give this another try because this song is so dope!" These two agree to work together, which in Tamar's world means doing everything her way. It doesn't take more than 5 minutes before Tamar is adding in vibrato where she is not supposed to and refusing to do a run. She/Me/Her really needs to put a little more trust in TC. T&VQuote: "Her tennis shoes are strictly reserved for the treadmill." These two really need to worktogether.com. Tamar finally nails the run TC has been working her on, and there is plenty praise to go around. Tamar chooses to reserve her praise until she hears her work played back. And thankfully, Tamar admits it sounds good. T&VQuote: "All that matters is TC and I are making beautiful, dope ass, difficult, hot ass music together and she wins."
Unfortunately, it's the last day of Michael's visit so April and LaShawn come over for breakfast. Never straying far from his background, Michael begins to preach about the ups and downs of marriage and the expectations each sex has. T&VQuote: "We all want respect. Hell, I want Cracker Barrel every day, but I don't get that." Regardless of what Tamar thinks of Michael's sermon-like breakfast conversation, LaShawn is very intrigued. April admits she hates to argue because of all the backlash that comes from it, and how unhealthy it is. Unfortunately, this conversation hits a little close to home for April and LaShawn as they have been at each others' throats for the past few days over how LaShawn interacts with women. April thinks there should be a certain level of respect that everyone recognizes (husband and outsiders) in order to avoid certain flare ups and arguments. T&VQuote: "Nasty Jane can do whatever she wants. If you ain't happy at home Nasty Jane is going to get an opportunity." You know things have come full circle when Tamar and Vince are the ones giving April and LaShawn advice. Vince actually told LaShawn to listen! Is it opposite day??
Tamar and Vince head to NYC for Fashion Week, T&VQuote: "And yes, she/me/her is walking the runway this season." Tamar's first stop is the dermatologist, but she is also concerned about the sample sizes she will have to fit on her size six frame. T&VQuote: "Vince, my stomach sits on my lap. It's sitting on my lap right now. It's having several seats… and one being on my lap." Tamar is having some blue light special that kills all the acne bacteria on her face combined with a few shots of cortisone. It is like a dermatology buffet! T&VQuote: "She'll do anything for fashion. I mean, if someone kicked me in the face with a boot it wouldn't really matter as long as I'm pretty." I think Tamar's dermatologist seemed a bit confused about her looking like Tyra because he was! What man knows who Tyra is without the Banks?
Mecca from Pynk Magazine has hooked Tamar up to walk in Rick Ross's girlfriend's fashion show. Tamar of course has been in starvation mode to make sure she looks perfect for her runway debut. T&VQuote: "She won't be in Fashion Week all fat and stuff." Tamar will be rocking a fitted latex/leather number that will hug every single curve. WE can see Vince is fan! T&VQuote: "Put some stank in it. Hit it." Tamar seems to be holding back while practicing her walk, and she also isn't getting the nicest feedback about her starved physique from the peanut gallery. T&VQuote: "You can't eat and have your abs pop through leather!"
It is crunch time, so Tamar meets up with Glamo to get a crash course in catwalking. T&VQuote: "Shy? That's what she's not!" Tamar needs to get her Tamar back with a quickness… where did she go? She is forgetting steps and acting like she doesn't know how to be fierce. T&VQuote: "This right here is too much to think about." Oh, Tamar please do not be a hotmess.com!
Hello, New York Fashion Week! T&VQuote: "There is nothing left to do but get my face snatched by my glam squad." I'm sure she also will be checking Benji off the list of possible assistants after he makes it seem like she was dying for some booze. He is also not seeing all those hints people are dropping about him being in the way. Maybe Tamar needs to employee him so she can give him some money to buy a clue! He should take that bowtie tat and skedaddle! However, Tamar is on to the next when she notices the bright red eye shadow they are putting on her and her "hump" bangs. Now, is it a good look for your day to day routine? Hell no! Is it a good look for fashion? Sure, why not? T&VQuote: "Don't it look like Baltimore back in the day?" Thankfully, Vince shows up in the nick of time to calm her nerves and give her that support and confidence she needs. It's time to werk! Thankfully, Tamar's first meal in a few days is not runway soufflé. She was amazing, and Vince could not be more proud of his wife!
T&VQuote: "Yes! The fashion show is over and now I can eat like Precious!" Tamar can also now openly beef about Benji. Poor guy didn't have a snowflake's chance in hell. T&VQuote: "Do not pass this line!" Always the positive reinforcement, Vince raves about the great job Tamar did in Fashion Week. Although, we don't see Tamar starving herself and wearing such out of the box makeup on the regular just to walk down the runway.
Will Tamar accomplish that look that every lady wants with her album cover image or is this going to be a disaster? Would you eat Soulshi? Has someone finally silenced Tamar? WE want to hear from you!
Here we are in beautiful Hawaii still experiencing the same argument from last week.  These two are in need of some serious April/LaShawn intervention.  Vince has clearly not moved passed his abandonment issues, and Tamar cannot take the time to listen to where Vince is coming from.   T&VQuote: "Ya'll gotta try something new if you want to get out of this situation.  The thing that shuts him down is the way you react and talk with him."  Tamar and Vince can learn a lot from April and LaShawn, so both of them should open their eyes and start taking notes from this couple.  These misunderstandings are amounting to a whole bunch of bull-you-know-what, and it all needs to stop.  T&VQuote: "There's too much misinterpretation going on here!  You can't keep throwing salt on wounds.  You said something that was hurtful, and at the end of the day you know it has no validation what so ever."  LaShawn is right… you have to let it go!  These two are in need of some serious help.com ASAP.
Thankfully, T&V's first stop off the jet is a trip to see their therapist, Sevin with LaShawn and April.  T&VQuote: "Everything went down from the rooter to the tooter, and we need to get to the bottom of this."  LaShawn breaks down the truth.com for Sevin so he can really understand what went down in Hawaii.  At least Tamar can admit the arguing has taken a turn for the worse, and express herself in more of a calm manner.  Same goes for Vince, however April is right.  These two are both very stubborn people who cannot seem to come together on one single thought.  T&VQuote: "It's not about who's right and who's wrong, because if that's the case then we shouldn't be together."  What Tamar and Vince need to do is admit their flaws; Vince holds on to grudges, and Tamar is very confrontational.  One thing we will say is we are extremely proud of Tamar for admitting she was wrong and extremely sorry for leaving Vince while he was in the hospital.  WE know that must have been very hard to admit, but Vince could have at least given her a more genuine and sincere reaction other than "ok".  That's more of a response when someone says, "We're having meatloaf for dinner."  You have to give a little too, Vince!  However, T&V both agree to work on certain things that will make their marriage stronger.  Finally, WE feel we have some resolve!
As if this couple didn't have enough problems, now they have to deal with divo extraordinaire, Miracle and his non-existent listening skills.  T&VQuote: "Miracle? Miracle? Miracle? Miracle? Miracle? Oh, he tried it!  This is my house, not his house… sucka!"  It looks like someone is on the fast track to early admittance to obedience school.  But, if Vince has anything to do with it he may cover up Miracle's tracks just to make sure Tamar doesn't realize she is right.
Now, for some comic relief… I'm sorry, but anything that involved Vince, LaShawn, and a basketball just sounds like a recipe for foolery.  These two are sweating like they ran the New York City Marathon, and have currently spent more time rolling on the floor than actually dribbling up and down the court.  This is just sad.  Don't quit your day job, kids.
Unfortunately, Vince couldn't clean up Miracle's messes for much longer so it is off to doggy day care for our favorite pooch.  Lucky for Miracle, the Barkley Pet Hotel provides all the luxury he is used to… including a room which is bigger than our studio apartment.  T&VQuote: "This is a sin and a shame, Vince."  WE have officially realized why Miracle can't seem to learn anything during his stays here.  He is too busy choosing between two beds, enjoying spa treatments, and in room dining.  WE wouldn't learn a damn thing either!
It's Tamar's turn to build her brand, and prove she is a fashion beast!  But, this stylist may get a foot up his a-s-s before he even has time to style her if he keeps talking about her not being "20 year old Tamar" anymore. T&VQuote: "No this little girl did not try to read me for my age."  He probably should have shown her the clothing options before insulting her.  Tamar probably would have been a little more receptive to an "older" look before someone practically called her an old hag.  T&VQuote: "Not Barbara Bush, Jr. the old one!"  WE can't blame Tamar, though.  She is trying to build her brand and these guys are trying to dress her way too mature for her age.  At least Vince keeps it 100, and is willing to talk to the stylist to try and bring some peace to this mess.  However, the stylist probably should not tell Mr. Tamar Braxton that he doesn't want his rep ruined by Ms. Tamar Braxton.  Bad move, sir!  Even your apology is not going to help this situation you made for yourself.  You stepped in shit, and you are starting to stink!  T&VQuote: "I gave what was given."  Oh, he tried it and then some.  Put down the shovel, boo… you've dug a deep enough grave.  Buh-bye!  Moral of this story… She won!
Welp… looks like someone found out that Miracle has a Twitter account.  T&VQuote: "You're not bubbles!"  But, I mean… who would follow a dog on Twitter anyway… WE would! WE love Miracle on Twitter… he's hysterical!
It's Round 3 at therapy with Sevin!  The couple has been fight free since their last session, but they need to address the main cause of the fight in Hawaii.  Vince shuts down every time Tamar mentions leaving him in the hospital, and Sevin explains to Vince he needs to be more responsive when Tamar brings this up.  They need to work through this in order to move on.
Will Tamar and Vince finally work through the bickering and the arguing?  Will the pain from Vince's childhood continue to affect his relationship with Tamar?  What marriage advice could you give the couple?  WE want to hear from you!
At the suggestion of Vince's doctor, Tamar and Vince head to therapy to sort out their concerns.  Vince's health problems have taken their toll on the both of them, and the constant fighting and bickering is starting to get worse.  There is only one rule; no one is allowed to interrupt each other.  Tamar explains to the therapist, Sevin that since Vince was hospitalized their lifestyle has changed considerably, as well as their timeline for having a child.  After Tamar speaks, Vince states that the baby issue isn't even an issue at all.  T&VQuote: "I am cool on that.  That has left the station."  This causes Tamar to be understandably upset.  Vince wants to act like everything is cool, but then still partakes in the arguments every other day.  Either these two talk out their issues in therapy, or they find a way to deal with all the arguing.  When asked what his biggest issue is with Tamar, he quickly replies, "Your mouth!"  It is clear Tamar's ways of expressing herself are Vince's characteristics of acting out of control.  These two just agree to disagree.  T&VQuote: "It's hard to know what's hurtful and what isn't.  And it takes time to figure it out."
On that positive note, aloha Hawaii!  T&VQuote: "Oh wow! This is gorg!"  Joined by April and LaShawn, these two couples are here for some straight up R&R, and like Tamar said, "not ratchet and ridiculousness."  As the fab four drive through the scenes of Hawaii, they listen to another track of Tamar's, "Love and War".  This is the first time WE have heard a ballot, and Tamar is a truly talented singer.  Vince is just incredibly proud of her, and each time he hears her sing with such vulnerability he falls in love with her all over again.  And after such a touching moment, things just keep getting better and better as Vince is approached by a young fan, and the group stumbles upon one of the many beautiful waterfalls of Hawaii.  T&VQuotes: "It's damn near breath taking."
The couples head back to the resort for some lounging and boozing… funners!  But, that was short lived since Vince and LaShawn had to bring up the fact that they met a female dolphin trainer at the airport.  Did we also mention she was blond?
Next stop, a canoe ride in the scorching heat with two non-swimmers… funners?  This is sure to be one hot ass mess when Tamar is the most athletic person on the excursion!  Thankfully, everyone gets it together in time to start paddling and go on the search for turtle dingaling.  This is short lived as well with LaShawn spouting nonsense about a gusty sea report and Vince having to do #2.  Have several!
And soon we are back on the subject of Vince and his preference for blonds.  WE get that he likes blonds, but where are they all coming from?  It's like a moth to a flame!  T&VQuote: "She wants a piece of my rib!"  This is just all too much.  Vince should just stay clear of any and all women so we don't have to hear anymore of this nonsense ever again.  Unfortunately, our wish is not granted and we are now on the subject of the "kiss" Tamar received from the canoe instructor… and then how Tamar doesn't listen (which everyone agrees with).  T&VQuote: "And SHE does not appreciate it.  I'm gonna go HAM Nation on everyone."  Bless April for trying to bring everyone back to a positive place, but she should have quit while she was ahead.
All I can say is please let some coconut bras and grass skirts lighten this mood.  LaShawn takes it upon himself to get up on stage and perform a little Bruno Mars for the buffet-lovin' tourists.  April and Tamar make Vince run interception on this mess in the making, but Vince joins right in!   However, if our man gave us a personal shout out, we would just melt.  What a sweetheart!  However, LaShawn is just a plan jokester and he would have gotten major side eye!
As if the canoe trip wasn't an indication that these men don't do well with aquatic sports, April and Tamar take them on a snorkeling trip via a boat equipped with floaties and 30 life jackets.  Between Vince's high blood pressure, LaShawn reverting to his toddler years once he hits water, and April coming clean about her aquaphobia, Tamar is once again the bravest one here.  This is a circus!  T&VQuote: "All I could think of was no bottom… no bottom… You got Nessy the Lockness Monster, Big Foot, unicorns.  You don't know what's down there."  At least LaShawn finally starts enjoying himself… must have been that bribery of French fries and pizza.
It's the last night in Hawaii, and everyone is looking forward to a romantic, waterfront dinner.  With everything going so great, each couple decides to share their beliefs about their marriage to each other.  Sharing is caring, but sharing is also very dangerous… especially when you are sharing thoughts on money and mistrust.  Once Vince starts to try and express himself, Tamar starts to interrupt him.  And this looks like this may be Vince's last straw on this trip.  T&VQuote: "You don't have to be the center of attention, and it doesn't have to be all about you."  Tamar tries to explain to Vince they both share and equal amount of love and respect for one another, and it is extremely hurtful when Vince doubts that equality.  It's obvious Vince's resentment is over something completely different; when Vince got sick, Tamar took a break from the hospital and went to Philly to visit a friend for a few hours. Hearing Vince express his anger over this is extremely hurtful to Tamar and she can't do anything but defend herself.  This situation has officially gotten a lot worse between the two of them since their therapy session, and Vince can't do anything else but leave.
Will Tamar and Vince ever get through this rough patch and move on from all the past hang ups and issues?  What's your advice to this couple?
Vince is still in the hospital for observation after his recent health scare, and Tamar is there to keep him comfortable and on his toes.  Vince is very adamant about being strong and keeping himself busy.  When he was in a coma last year, he faced a lot of muscle loss and issues after being in bed for so long.  He doesn't want that to happen to him again, so it is important to remain active.  Vince wants to join a gym to get in better physical health, but Tamar knows it also needs to start with nutrition.  Luckily, this couple can remember the importance of laughter at a stressful time like this.  And that laughter is coming from whether or not Tamar and Vince have ever had sex in a hospital.  T&VQuote: "I have never done the nasty in the hospital. How gross is that?"
Tamar meets up with LaShawn in the studio to listen to a new track, "Hot Sugar".  LaShawn thinks this could be a hot record, and wants Tamar to listen to it and finesse the lyrics.  T&VQuote: "It's cluttered.  It's like Hoarders!"  Tamar and LaShawn both seem to be in agreement on what the song needs, but Tamar needs to get back to the hospital to see her man.
It is finally time for Vince to come home, but before he can leave the hospital he needs to pass Tamar's cleanliness approval.  WE get it, hospitals are gross.  But all those flowers were sent by people who love Vince, so why not surround him by that love at home?  T&VQuote: "It's gross.  GERMS!"  April and LaShawn plan on coming over to celebrate Vince's homecoming, but he is still harping on the fact his flowers and sneakers were left behind.  This conversation of course turns into a bigger argument once they get home.  As much as Tamar has been greatly affected by the health issues Vince has had, Vince is the one that has gone through all the tests, pokes, prods, and physical issues.  T&VQuote: "Stop making it about yourself."   The convo ends with Vince getting up from the table and walking out.
After a great workout with LaShawn and Adnan, Vince joins Tamar for some home cookin' by our favorite chef, Donnatello.  Vince is really feeling this health kick, trading in his cravings for fried food for cravings for a little physical activity.  T&VQuote: "We were in the running to becoming America's top fried food couple."  In hopes of having Tamar stay off his case, Vince does not put up an argument when Tamar suggests getting a bell for Maria.  T&VQuote: "If that's gonna make her feel good, I'm gonna go buy a bell.  I'm gonna buy 20 bells."
T&VQuote: "Now that we've called it a truce over the stupid flower fight, I thought we would do a little healthy car shopping which is always good for the mind, body, and Tamar."  Tamar takes the new Range Rover for a test drive with their car salesman, and it looks like Tamar is in love.  T&VQuote: "It's like a pair of shoes.  You have to change your shoes every day."  Trying to make everything easier, Vince tries and convinces Tamar to love the white version, but she wants all black everything!
As soon as WE heard Vince, LaShawn, and yoga in the same sentence WE knew this was going to be great.  Not believing their hubbies, April and Tamar head to the yoga studio to make sure the boys are where they are supposed to be.  WE would have been suspicious too!  T&VQuote: "Why couldn't she be a brunette?"  Between the woman having her hands on Vince, him showing off his drawers due to a pair of baggy shorts, and some spread eagle action, this yoga session is just H.A.M.-tastic!
Tamar joins her childhood friend, Tia for a little girl time and lucky for us Tia has brought old school pics.  It is pretty incredible to hear Tamar has been in abusive relationships because she is such a strong woman.  T&VQuote: "How did I even recover? I had two boyfriends who likes to beat up their girlfriends."  Tamar knows that putting up with that type of situation was due to low self esteem and low self worth.  Lucky for Tamar, she found a man who treats her right.  This brings Tia to the perfect time to ask Tamar about having children.  T&VQuote: "She has to sip on that."  Had Tamar known that her life was going to slow down the way it has after Vince spent the time in the hospital, she would have gone through with the full baby plan.  T&VQuote: "After Vince got sick, I knew at that moment that we were meant to be together."
With Vince still on the mend, he has not been 100% back to business as usual so he and Tamar decide to pay Mindless Behavior a visit in the studio before they go on their first big tour.  Vince decides to play Tamar's demo of "Hot Sugar" for the boys because he really loves the song and loves to support Tamar's career.  While everyone is feeling the lyrics and the beats, Tamar puts an end to the fun with a quickness because it is not her singing on the track.  Vince tries to explain the reasoning behind not using Tamar's vocals YET, but she does not want to hear it.  T&VQuote: "I think they really need to stop, take a step back from all the business… cuz someone might end up in the hospital."
Vince and LaShawn head to the golf course for some physical activity and some laughs.  Vince uses golf as his stress reliever.  T&VQuote: "All you hear is the wind in your ear and no yapping."  Looks like visualizing is key in Vince's golf game… now who he is visualizing as the ball is a whole other story.  Vince and LaShawn decide to plan a trip to Hawaii with the ladies.  With Vince's health issues still being a small problem, it is best to stay a little closer to home.  T&VQuote: "If it gets a little tricky, Hawaii is going to find out it has two volcanoes they didn't even know was there, V and the T."
Vince and Tamar head to dinner for date night, bit apparently they had a real bumpy ride on the way to the restaurant.  Tamar had a picture of Vince on Instagram, and it grinded her gears when Vince wouldn't give up his source.  T&VQuote: "I still don't know which bitch told him.  And that's still a problem!"  Tamar doesn't think Vince fights fair, and gets angry at the fact he always takes it to a nasty place.  It seems like this couple can't seem to go a day without arguing, and when it ends because Vince has removed himself from the situation (and the location) you know these two are in need of a serious reality check.  T&VQuote: "Seriously, something's gotta give.  We can't keep doing this."
Will Tamar and Vince finally stop fighting once they get to Hawaii?  What is with Tamar and her insecurities about blonds?  WE want to hear from you!
Tamar meets with surrogates, Toni models a sock dress, Trina takes a band hiatus, and Gabe talks about his "deposits"… ew!
Toni checks up on Trina to see how things are going.  BFVQuote: "Being the older sister, you know I'm psychic."  Toni thinks Trina's decision to drop the band is long overdue, allowing her to go out into the industry and figure things out for herself.  There is a lot of security with being in a group, and Toni thinks it is time for Trina to be on her own.  BFVQuote: "Don't be afraid to fly.  Just sore on your own."  Toni also gets a little something out of this conversation as well; Trina admits that she respects Toni and her opinion.  BFVQuote: "Don't do what I do.  Let my screw ups help you."
Tamar, her summertime hair, and Towanda go out for lunch… and for Tamar to tell Towanda she will not be her surrogate.  Why the change in do?  Apparently Towanda like Tamar's classic hair so much, she stole it.  BFVQuote: "We can't be sitting here looking like the bopsy twins."  But apparently she stole it from Toni!  BFVQuote: "Back in the day… when Toni Braxton was doing The Flamingo 'Revealed'."  WE don't know if Vince is really THAT worried about the baby picking up Andre's "bad habits" or the fact that it's a bit weird to rub his sister-in-law's belly while she is pregnant with his child.  Like Mama E says, "I'm just sayin'."  Although, Vince having his heart set on Tamar carrying this child may not be the right move either.  BFVQuote: "Why would I want to have a baby inside of me messing up my girly parts and stretching out my tight abdominal region that I work real hard for?"  But, the best part is Tamar's song about Towanda's cooch.  BFVQuote: "I sure see the light." <a href="http://we.tv/P5BNW3″>Click here to listen to the "Cooch Song"</a>
Toni has a dress fitting with Michael Costello, who has designed the sock dress Toni will wear in a photo shoot for Autism Speaks.  BFVQuote: "The cousins are good."  With Toni starving herself for Fashion Week, I don't think we need to worry about her looking "too big" in this dress!  BFVQuote: "I don't want to look like 'Oh, she knows where the dessert table is.  Not a good look."
Mr. Braxton is in town!  Tamar goes to lunch with her daddy to catch up and talk babies.  BFVQuote: "I need a glass of wine for this.  This is stressing me OUT!"  With Tamar still wanting to professionally achieve so much, she feels that babies can sometimes be a hindrance.  BFVQuote: "It doesn't have to be a Viking.  It could be a GE."  After the back and forth, Tamar and Mr. Braxton decide to put this conversation on the shelf and enjoy their lunch.  BFVQuote: "Aw Tamar, Tamar, Tamar.  You my baby."
Toni is in New York doing her photo shoot for Autism Speaks and SheKnows.com with Mr. Nigel Barker (BIG TIME!).    As soon as the music comes on, Toni works it OUT! The dress really looks beautiful, and with Nigel's creative set design this is going to be a great photo.  BFVQuote: "I'm just a singer trying to look like a model.  It's a whole body work out."
Back in Atlanta, Gabe comes over to discuss the possibility of moving back in.  BFVQuote: "I'm just working on not being angry right now for the sake of the children."  Can't blame the guy for trying!  But, Trina looks like she just saw a unicorn prance into the kitchen.  He thinks the progress he has made in sex addiction counseling and with his therapist is enough to gain Trina's trust back.  BFVQuote: "He is not supposed to be using it as a ploy to get back into the house, or back into my pants, or both. That's a big negative, soldier."  Gabe does raise a good point though.  While he is going through all this counseling, what is Trina doing?  Mr. Oral Transaction is still in the picture professionally.  And when Gabe calls it like it is, Trina looks like she's seen a ghost.  BFVQuote: "My penis made a deposit into another woman's vagina."  Hate to say it, but WE are semi on Gabe's side with this one.  But you're still our girl, Trina!  We know it's not about just this isolated incident.  At the end of the day, this couple still needs more time to sort out their beef.
Tamar and Vince meet with a slew of potential surrogates, you know from the beginning this is just a recipe for disaster.  BFVQuote: "It's not gonna work for me, but I'll check it out."  Margie kicks it off with a hug and Vince dives right in with offering for Margie to stay at the house while she's pregnant.  Tamar looks like she is going to fall off the chair.  BFVQuote: "She's not having it."  BFVQuote: "What's personal is you not wanting to push the baby out your coochie."  Next is Sarah, who may have wanted to wear a slightly more conservative top that didn't reveal the goodies.  BFVQuote: "I don't know how many other ways I can say hell-to-the-niz-o."  As soon as she says, "I would love to have your son" it is an open and shut case.  NEXT!  Oh, Lily, Lily, Lily.  BFVQuote: "This ain't 1-800-Rent-A-Womb!"
Trina meets with the band to break the news that she is officially leaving.  BFVQuote: "I am taking a band hiatus so I can kinda fly with my own solo career."  Trina is taking some members of the original band with her, so she knows certain people will be upset… including Mr. Oral Transaction, Christian.  BFVQuote: "I don't need the sexual innuendos.  What I need to do is clip his balls and neuter him out of my life."  Besides Christian, all the other band mates are extremely supportive so go figure that he needs to follow Trina outside to have a "talk".  HE should be a stranger!  BFVQuote: "Your account with the First National Bank of Trina is closed!  You need to take your business elsewhere."
On to Trina and Gabe, round two.  Gabe is concerned about Caleb's grades, and Trina think it has something to do with all the emotional stress he has been going through.  BFVQuote: "I don't think that Caleb is failing.  I think that we are failing."  Gabe thinks they need to spend more time with Caleb, whether it is together or separately.  BFVQuote: "Gabe is pulling at my heart strings being a good father to the boys, but he was a really terrible husband to me.  But, sometimes you have to choose what's right for your children over what's right for you."  Trina appreciates Gabe's commitment to staying around for the kids, and thinks it is the best thing for the family.
What do you think of Tamar talking in the third person?  Will Vince and Tamar EVER find a surrogate?  Are you on #TeamReunion or #TeamSeparation with Gabe and Trina?  Let us know what you think!