Anyone who subscribes to Netflix is familiar with Crazy Eyes (aka Suzanne Warren) in their hit comedy Orange Is the New Black played by Uzo Aduba who, alongside Viola Davis, made SAG history at this year's awards. Both women took home lead actress awards: Uzo taking home the award for her work on OITNB and Viola for her role in How to Get Away with Murder. It was the first time this title has been awarded to two black women.
Uzo's reaction to her win proved that she is as lovable in real life as her character is on tv. She seemed to have a difficult time digesting the news, but went on to deliver an ad-lib speech filled with genuine emotion as she expressed her deepest gratitude.
Uzo took to Twitter and Instagram and posted a picture of her trophy captioned "Grateful beyond words. Proud to be a member of this tribe. @sagawards @oitnb #SAGawards #IAmAnActor #OITNB #teamorange #gratitudetothemoonandback". Watch her acceptance speech here.
My mother always told me to leave the house looking presentable (hair brushed & makeup on) because you never know who you'll be running into – especially on the streets of Hollywood! For some celebs it's "no makeup, no problem." But for others…WE wish they would have applied a little bit of concealer before leaving the house (for their sake)!
It's not always glitz and glam for these celebs – check out the good, the bad and the flawless!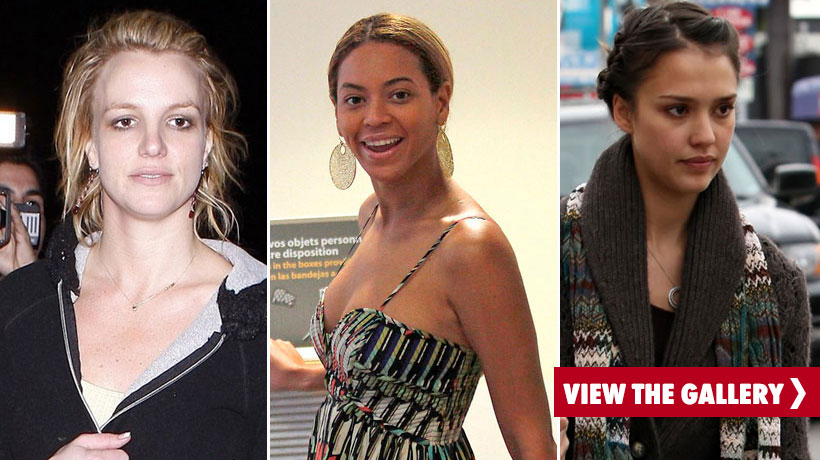 Talk about a 'Wrecking Ball' – Miley Cyrus' MTV Video Music Awards date is a wanted man.
Apparently, 22-year old Jesse Helt has a warrant out for his arrest in Oregon. According to the associated press, Helt was arrested on charges of criminal mischief, criminal trespass, and burglary in 2010. Reports say Helt broke into a man's apartment he believed had been selling bad marijuana. At the time, Helt pleaded guilty and was sentenced to 30 days in jail and probation. The warrant was issued in 2011, when he violated probation.
Instead of facing the music, Helt moved to Los Angeles trying to find work as a model. He met Miley Cyrus through the Hollywood homeless shelter, My Friend's Place. WE wonder if his modeling dreams may soon come true since Miley used him as a pawn in her publicity game when he accepted her award for "Video of the Year."
"I am accepting this award on behalf of the 1.6 million runaways and homeless youth in the United States who are starving, lost, and scared for their lives right now," Helt said. "I know this because I am one of these people."
A good cause overshadowed by a dark past – Don't worry Miley hasn't taken off during Helt's time of need, she took to Twitter to say, "People who are homeless have lived very hard lives. Jesse included."
Social media has caught on to the contouring trend, and isn't taking it too lightly, or darkly depending on the situation. Twitter and Instagram users are flooding their feeds with transformation pics showing themselves using the magical powers of makeup to powder and brush themselves from the ordinary Joe to celebs.
It started out as a the guys transforming into celebrities, but the ladies have also joined in on the fun. Check out some of the transformations below.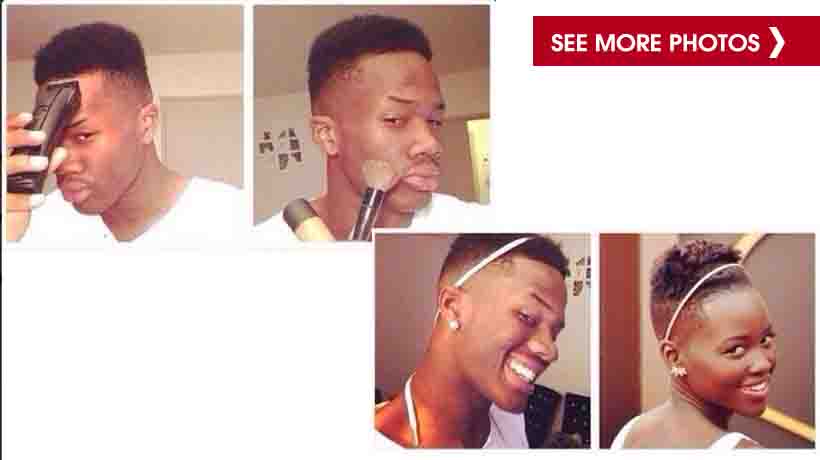 There's more of these on social media, just check out the #makeuptransformations hash tag on Instagram and Twitter.
To celebrate the fourth season of Braxton Family Values premiering August 14th at 9|8c, WE tv teamed up with one of our favorite Tamartians: five year-old Cece.
The pint size comedian, who boasts over 500,000 Instagram followers, already has fans in Kevin Hart, Sherri Shephard and Tamar Braxton herself. And it's easy to see why.
From her infectious "Do It For The Gram" song that landed at #1 on iTunes in her genre to her must-see appearance on "The Steve Harvey Show," Cece is winning the world over with her talent and charm. But her funniest performance yet is her dead-on impersonation of Tamar in the Season 4 preview of "Braxton Famiy Values." Cece has Tamar's voice, mannerisms and even her hairstyles down.
Check out Cece's latest video tribute to Tamar, made exclusively for WEtv. WE promise it's the most adorable thing you'll see today.
After a Danity Kane reunion that feels shorter than Kim K's marriage, Diddy's former girl group is officially no more…again.
Fans knew the end was coming as soon as the quintet announced their reconciliation because the five-girl group was missing one member—D. Woods. Focused on her solo career, she didn't seem to mind her girls moving on without her, but it wasn't long before Andrea Fimbres chucked the deuces to her claim to fame to get married. And all fans could say was "And then there were three."
Now, after DK's remaining three members have gone on to rock the stage, it seems the trio has called it quits because of a good ol' fashion cat fight in the studio last Monday (Aug. 4) night. Aubrey O'Day and Shannon Bex released an open letter stating why the group can't go on, but Dawn Richards seems to have a different story. And this weekend, she finally broke her silence via Facebook.
Dear Danity Kane fans,
I am sorry to everyone that this news has to come out. You're worth more. Certain choices were made that I am not proud of. However, I will not be disrespected. Once again, I am sorry to the fans as this should have been handled privately not publicly. I continued to work with both parties to try to release the album even when the original story was leaked without anyone being consulted. I have been unable to release my statement via Danity Kane social media because my access to all Danity Kane social media pages has been blocked by DK members. This forces me to make my statement on my personal page. This could have all been handled privately; however, certain parties chose to make this public before it could be rectified. I am not justifying my actions. I am saying this was all done before any changes or conversations could even be had.
But WE just have to know, do fans even care?
Wendy Williams has made plenty of enemies over the course of her career, attacking everyone from icons like Whitney Houston to reality TV stars like Nene Leakes. But the latest buzz about the legendary talk show host, who recently interviewed the Braxton sisters ahead of Braxton Family Values Season 4, may win your sympathy. She revealed to People Magazine that body issues have plagued her since she was a young child and she never fit in at school: "My life before 21 sucked. My first diet was in the first grade! Tuna fish and mustard with yogurt on the side. Weight was a big thing for me to overcome. […] In high school I was just the girl standing on the side, looking at everybody having fun and saying, 'I can't wait to get out of here and set the world on fire."
Wendy's 20s and 30s were even more tumultuous as she struggled with drug addiction and fertility issues: "Drugs were a demon I had to overcome. [And] there was a hiccup with a couple of miscarriages. Life is hard on us women."
Now that she's in her 50s, her days are brighter than ever: her confidence is soaring, she's the host of a successful TV show and has a loving family (with a husband and son, both named Kevin). But she still can't seem to escape negativity, thanks to her weekly column in Life & Style. Recently, she attacked Heidi Klum's parenting skills, criticizing her for letting her daughter wear heels, and made fun of Rob Kardashian, who is publicly struggling with depression and weight gain. On her talk show, Wendy dug her claws into Nene Leakes, spreading rumors about the reality star's alleged criminal past:
Nene responded: "Wendy, I am sure people think that I've done something to you, maybe we had a beef or I slept with your man but none of that is true! I've actually only been nice to you! When it comes to gossip you are the lowest of the low! What you need to do is stop spewing hate!"
Do you agree with Nene? Is Wendy the lowest of the low when it comes to gossip? And does that cloud her success story with major shade? Tell us your thoughts!
Dwyane Wade and Gabrielle Union win the award for the best and cutest Save the Date announcement!
Wade popped the question to his actress boo with the help of his sons and nephew. Thanks to TMZ, WE get an inside look at some of the proposal footage. 
The details of the wedding haven't been revealed but in an interview with US Weekly in June, Union described the planning process, "We're pretty deep, and by we, I mean he and the wedding planner… He really Kanye'd himself and really doubled down, and it's his princess day and I'm just along for the ride."
WE can't help but to think of the magic that celebrity wedding planner David Tutera could have brought to their magical day. WE think Tutera would have turned the celebrity couple's wedding into a classy but royal affair taking it up a notch from their all white themed engagement party. After all, Tutera did a fabulous job with the reception for New Orleans Hornet Chris Paul and his bride Jada Crawley in 2011.
This is the second marriage for both Wade and Union. The couple is set to tie the knot in a social media-free wedding in Miami on August 30th.
It's the battle of old royalty versus new royalty.
Just a day after Beyonce released the remix to 'Flawless' which features 31 year old rapper Nicki Minaj, there's some rap beef brewing. Lil' Kim dropped a remix to the remix (is that allowed or would it be a super remix mix?).
The first version of the single addresses the infamous elevator brawl when Solange wind milled and gut punched Jay Z. Minaj flows into the track and references herself as the "Queen of Rap." Queen Bee Lil' Kim tossed aside the diapers and bottles to come out of mommy hood to address the shade.
At the end of Minaj's verse in the remix, the 'Beez in the Trap' artist says "The Queen of Rap slaying with Queen Bey" and Lil' Kim wasn't having it. The self proclaimed (according to her Twitter bio) Queen of Rap hit the studio to tack on her own 30 seconds of diss to the song to slam the former American Idol judge. Lil' Kim even went so far as to change the cover art for the single by removing Minaj's photo and replacing it with her own.
"Am I trippin' or did this hoe just say my name/ Queen of Rap, get f–k outta here/ Queen's back, get f–k outta here/ Time to get this rap bitch up outta here," Lil Kim says before concluding, "Damn, it's a shame I gave you the rope/ Bitch I want you to hang."
WE don't know about y'all but this sounds like fighting words. Check out the track below:
The Nicki Minaj and Lil Kim beef goes back a few years. In an interview with The Breakfast Club in 2012, Lil Kim explained why the two will never ever be friends.
Meanwhile the new mother of Royal Reign will appear on this season of WE tv's David Tutera's CELEBrations. Tutera and his team get the chance to 'rumble with the Bee' while planning the rapper's baby shower.
Hot mama alert! Jenni "JWoww" Farley debuted her now blonde 'do Tuesday on Instagram. She posted the picture with the caption "Blondes have more fun, right!?" WE think she looks fab!
This picture comes after a post the prior day captioned, "Going blonde!!!…Thanks to the kick ass @joeidfox for the sick job!!"
Many reality stars have taken to Instagram to show off their lighter locks. It must be the sweet smell of summertime that has everyone wanting a fresh and lighter look. Even Kim Kardashian teased us with a blonde wig last month. Looks like everyone wants to have a little fun.
Check out our roundup of hot reality stars going blonde. WE dig it!