What are the names of SWV's talented women?
Answer: Coko, Taj and Lelee
What was the name of SWV's debut album that went double platinum in its first year?
Answer: It's About Time
What SWV number 1 hit used samples from Michael Jackson's Human Nature?
Answer: Right Here
What hit song in 1993 established this trio as a force in the R&B world?
Answer: I Am So Into You
What year was SWV nominated for "Best New Artist" at the Grammys?
Answer: 1994
Watch this throwback video of one our favorite SWV songs and be sure to catch Sisters With Voices on WEtv in a new series coming in 2014.
Get a glimpse into Tamar and Vince's lives from our crew's perspective with these exclusive details from our producer's notebook. In these notes jotted during Momma Works Hard For Her Coin, our producer spends time on the crazy set of Tamar's reality show "The Real".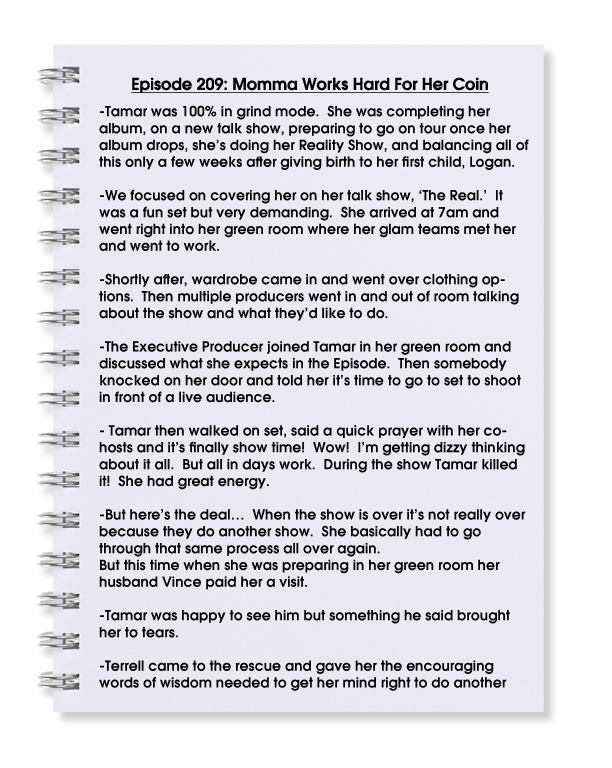 Here at WE tv, WE are obsessed with the new members of our family, and Logan is NO exception.
Tamar
posted the adorable photo of Logan…
And our #Tamartian friends just couldn't help themselves from making equally adorable (and hysterical!) memes of the little cutie.
Last Friday on Kendra On Top: Kendra goes car shopping and she has an anxiety attack during the test drive. Her therapist says she fears things she can't control. While Hank is away on a guys' only camping trip, Jessica accompanies Kendra to the doctor to have her IUD removed, whether Hank is on board or not!
At the doctor's, Kendra makes us second guess the thought of having kids. There is no coming back from the clip you are about to see – you have been warned.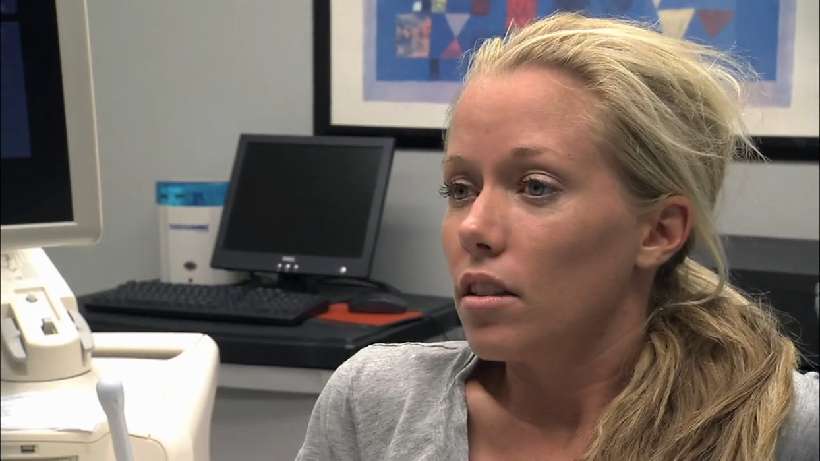 At Jessica's photo shoot, she was a little bit nervous and a little bit shy. I've done SO many shoots that I knew she needed some guidance, so I took control and told her what I thought would look best on her (and off of her), and I felt empowered again, with maybe a twist of controlling, lol.
Ever since my car accident and a couple other things happening in my life, I've been in need of some therapy. But I'm not really the type of person to admit it. But when it was said, I knew it was the right time to go. I truly want to get over the fear of driving and know some answers to some questions I have in my life. In my first therapy session, the therapist inspired me to take control back in my life, and she had some wise words for me. I took her advice and took some control and grabbed the world by the balls in a couple of ways. It felt good to have that energy back again, which I lost for a while.
Hank and a couple of his friends were about to head out of town for a guys camping trip for a week. He left at a time when I was PMSing and EXTREMELY hormonal, so I got kinda mad that he was leaving, and I didn't know why I couldn't go! Haha. I feel like one of the guys, lol. Why can't girls go on a guys' trip?! So he left on the trip, and I was mad and needed a therapy session. When Hank first told me he was going, I was all for it. Then he left and I was like, 'WTF!'. So I needed another therapy session.
I decided to take out my IUD because I was feeling so good in my life and where it was. I was gaining control back in all the other parts of my life. This was another place. I've had my IUD since little Hank was born because we wanted to make sure it was the right time to have another baby. This was just that time. Did I tell Hank this was the exact time we were doing it? No, lol, but who cares! I went to the doctor with Jessica and all of a sudden it was just done. No more IUD. Just like that! When I told my therapist I was planning on taking it out without him, she looked at me like, 'uh oh!' So finally Hank came home from the camping trip, and I told him what I had done… and then… we went right at it lol!! HE was so happy and ready to go. So it was a win-win for everyone! Stay tuned….
At the end of last week, #TamarandVince were getting into an argument around an innocent comment that could be taken out of context during a stressful time. This week, WE pick up right where we left off!
It seems like Tamar was just trying to stress that she loves both of them and would never let anything harm them in anyway. TVQuote: "My feelings are my feelings." But then Vince goes and leaves Tamar in the car with all the bags? #HeTriedIt
Thankfully, this couple hits the town with Terrell for some cocktails, so WE expect the moods of these new parents to change very shortly. TVQuote: "She's gonna be white girl drunk tonight." This adult conversation quickly turns into who's getting an "oink oink" tonight and they haven't even started drinking yet! #CoverYourEars
Mama E has come back to L.A. with the new and improved Herberts so she can make sure she is there to see Logan grow up. But, don't get it twisted… this Braxton still has a lot of life left in her. TVQuote: "You're trying to lift up your skirt and fly, baby."
It is back to business as usual for Tay Tay as she meets up with Ashley for the wardrobe fitting for her album cover. TVQuote: "He doesn't know I'm thick-ums, for real." TVQuote: "If I was a rapper that would be my name. MC Fat." Ashley is willing to go back and pull some more ideas in larger sized, but Tamar does not think larger sizes mean she's gotten her snatch back. TVQuote: "Tomorrow I'm not going to be a size 4 and that's a problem." But you know SHE brings it once the cameras are on for her album shoot. Like Tamar said, TVQuote: "I have an album that I worked very hard on, and I don't want to push it back."
A few weeks later, it is time for the "Mommy and Me" Us Weekly photo shoot where Logan is beat to high heaven in some Versace and Dior. TVQuotes: "He's a prince." The pictures are purely precious and the prince is on his best behavior while Vince "works them to the bone." TVQuote: Are you Ike Jr.?"
Get a glimpse into Tamar and Vince's lives from our crew's perspective with these exclusive details from our producer's notebook. In these notes jotted during Jet Set Baby, our producer takes a ride in a private jet with our favorite couple and their newest addition to the family.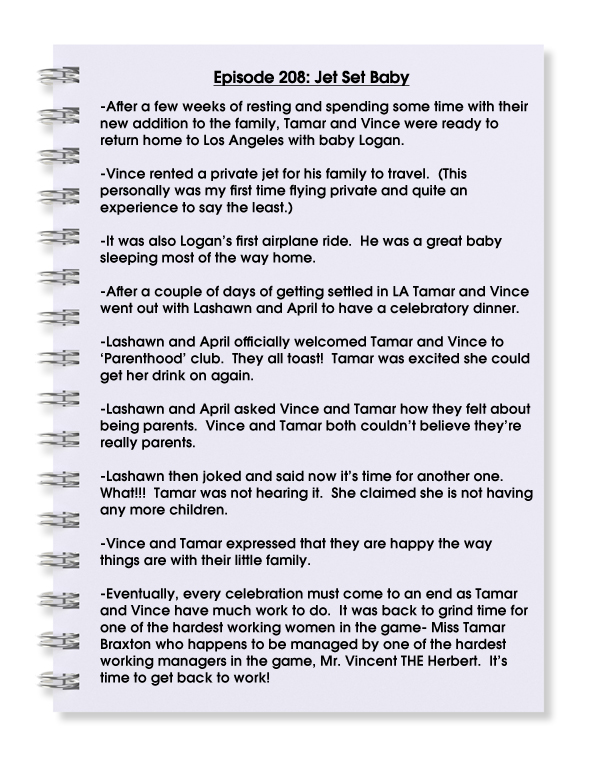 WE couldn't wait to share the first sneak peek of the new WE tv series, SWV. This will NOT disappoint. Keep following us on Twitter and Facebook to be the first to know everything about the new series coming in 2014!
Will & Grace has found a home on WE tv, and it seems like this was JUST what our avid fans needed. Since starting back in September, WE have received an overwhelming amount of tweets thanking us for the new edition. WE must admit… WE are just as happy as you are.
#WillandGrace marathon still playing on @WEtv ..they're just a silly bunch. .smh

— Alicia L Booth (@ALBee115) October 23, 2013
When I can't sleep, it's good to know there is always a Will & Grace on 😉 @WEtv @DebraMessing @theseanhayes

— Shawna Levins (@SShawna_LLevins) October 23, 2013
"You don't realize how important cheese is until it's gone!" Truer words have never been spoken! #WillAndGrace @WEtv @EricMcCormack #cheese

— Sara M. Medina (@_SaraMedina_) October 23, 2013
@WEtv please put #willandgrace on marathon every night!!!! Obsessed!

— Gina (@geena1029) October 23, 2013
Will & Grace marathon @WEtv #best show

— Christina (@DMBamore) October 23, 2013
And then there is that moment when @WEtv goes from Will and Grace to the Departed. My inner gay and inner fangirl are at peace.

— Katy Chung (@VeganCinephile) October 22, 2013
Thank you @WEtv …my 3 all time favorite W&G episodes on all in a row!! So happy right now!!! #OhMyGod

— Melissa (@DannysTrouble) October 21, 2013
Our friend, Pat McAfee, we have known since Hank played for Colts. Pat surprised us with a trip to Big Bear, CA for our 4-year anniversary. We were so excited because it was perfect timing for a lake trip. Time to get out, let loose and just be free for a while. Adult playtime! So, we headed up and stayed in the most amazing cabin on Big Bear Lake. It was so perfect and the perfect way to spend our anniversary. It was a beautiful location, surrounded by our friends and having so much fun. We did all kinds of water activities like jet packing and just living it up! Jet packing was so much fun, but in order to get to where it was, we had to go through some of the nastiest and coldest water EVER. It was so worth it!
After a fun filled day we started having some drinks and something happened that we didn't expect… DRAMA. I'm a person who lives my life in the moment. I'm a free spirit and when I'm around people that I'm comfortable with I get a little crazier than usual. When I tried to get Pat's girlfriend to let loose with me, things turned sour. She thought I was trying to force her to go crazy, but it was just a comment I made that was taken way too far. Pat went to stick up for her and started a little bit of heat between us. It really sucked, because I always thought of Pat as the fun, crazy guy I would want to go on a lake trip with, but after he started saying things I began to feel differently. I got a little sad and was like… "Where did my buddy Pat go?" The trip started out fun and carefree, but ended up being anything but. Drama- free, yeah right! I get that some people are not like me, but I do believe people should speak up for themselves. Also, if people are going to be around me, they need to know it's going to be a FUN time. I'm never pressuring anyone to do anything, I'm just encouraging fun.
What would you guys do?