As the song says…New York City is a concrete jungle where dreams can come true. So many of my dreams of NYC involve making a name for myself as well as my business. As they say, if you can make it in NYC you can make it anywhere. Plus-size fashion does not have a voice in NYC. Not even a whisper. I know it is my destiny to change that and it all starts with this trip to NY.
I am more nervous than I have ever been. And, I am not a nervous person at all. It feels great to have my friends and closest supporters with me but I struggle with whether my team has what it takes to get to the next level…the New York Fashion Week. I know we all work hard but there are times when I feel like I am the only person that sees the big picture and is willing to do anything to make it happen.
In order to be successful, Bella René must gain a following and a presence in a market like New York City. I have never just wanted to be another fashion designer. I want recognition from the straight-sized world as well. I want plus-size women to be able to walk down the streets of NY just like straight size women and look fierce and fabulous. New York City is no joke and they either love you or they hate you.
And, if they hate you, you're pretty much dead or nonexistent. I cannot fail, I have worked too hard and all my hopes and dreams are hanging in the balance. I hope my team and I can pull this off. Chile pray for me y'all!
Our House of Curves star, Kenyatta Jones knows more than a thing or two about dressing the fabulous plus size woman.  So with summer being in full swing, Kenyatta provides us with some top tips that will make sure your summer style is always on point:
Peplum, Peplum, Peplum: this style will allow you to accentuate the parts you want like your waist and hide the parts you want to conceal like a tummy.
Black and White: whether you are plus size or not, black and white patterns and pairings are a huge hit this season.
Go strapless! WE know how you feel about your arms, but embrace it.  Strapless necklines are great to pair with a bold statement necklace.
Bring it all in: Kenyatta prefers Spanx, but WE cannot stress how important proper undergarments are. Whether it's a girdle, a compression tank or one piece you need something that will hold you in and smooth our your shape.
There are VERY FEW occasions where I'm left speechless. I have to admit that the moment Kenyatta promoted me to Design Director was one of those moments! I did not see the promotion coming AT ALL!!!!! Keeping it 1,000 though, CLEARLY the work has been put in.
It has always been important to me to help Kenyatta fulfill her life-long dream of revolutionizing the fashion industry, a dream shared by the both of us. I was willing to do whatever needed to be done in order for the Fall Fashion Show to be a complete success, such as outsourcing the pieces that Elly could not produce. Even though I did have to step away to focus on my personal life, the passion and love that I have for Bella René and for fashion as a whole, called me back. I can't thank Kenyatta enough for letting me come back, but I knew that I had to work my ass off and prove that I belong at Bella René.
I didn't expect anything to get handed to me…I never do. I will say this: it's the best feeling in the world knowing that someone believes in you and your vision enough to give you a second chance. And, when you do get that second chance, you better SLAY THE SCENE!!!!
A mother always dreams of the ideal man for her daughter. My ideal man is (mostly based on personal experiences):
A man who loves and respects his mother. This kind of man knows how to treat his woman.
A man that is not selfish and needy, thinks he's all that and a bowl of chips, and that you should kiss his feet just because.
A college grad with a good job, or if not a college grad a man with a good job.
A man that can be comfortable with a woman who possibly makes more money than he does.
A man that can cook and clean as well as you can and doesn't think his woman has to be the maid in the relationship just because she's a woman.
A single man with no children.
A man who dares to dream and dream big, who has short and long-term goals, and who is as ambitious as you are.
A man who loves to party, have fun, travel, live life to the fullest. NO DRUGS AND AN OCCASSIONAL DRINKER.
A man who can embrace a plus-size woman.
A man who is honest, can tell the truth, who knows that lies destroy relationships; a man that starts out as a good friend before he becomes a lover, and who knows he's got to be trustworthy.
We all know beauty is only skin deep, but I've imagined a man that is at least 5'8 or taller. A woman always wants a man to look up to. He doesn't have to be as fine as an expensive bottle of wine, but close to it – a romantic, a good kisser, and a good lover.
There are few men that measure up to President Obama that I've come across, but a man with swagger and who can walk the walk and talk the talk. A man with a beautiful spirit and smile.
A man needs to compliment his woman. He needs to be able to stand on his own two feet, and not be a user. He needs to be able to love his woman like he wants to be loved.
As for Phillip, I know there are no "perfect" men. I know men make mistakes. Women do too. I think he's learned that what you do in the dark comes to the light. I think he's learned not to lie, tell the truth, and man-up. He may have one or two of the traits that I want Kenyatta's man to have, but he's young, maybe he'll grown into some others. Right now he seems to be her choice. I'm not thrilled but I'll just have to watch and see what happens.
Kenyatta offered me the position of being her assistant because she knew of my obsession, fashion! I took her up on that offer to have the opportunity to learn the business aspect of the fashion world and to do and be around what I love. I am a recent grad and I have a degree in Biology; an accomplishment I am extremely proud of but did not come easy. I planned on pursuing a career in dentistry but after five challenging years of undergrad, I realized my heart belonged to clothes, shoes, and accessories. So here I am, working along with Kenyatta, my cousin Kendra, and Sherlynda.
We have been working towards the up and coming Denim Pop Up Show and Kendra and I have been given the task to find young women to model the Bella Rene denim. While preparing for the show Kendra comes up with the bright idea for me to be a plus size model. NO DEAL! I can take a good picture but I am nobody's model! Kendra and Kenyatta are constantly in my ear about this modeling thing and quite frankly I don't want to hear it! I want to be behind the fashion scene, not in front of it. But guess what? Kenyatta wants me to walk in the Denim Pop Up Show anyway and I am pissed! I was steaming mad on the inside but I am a team player and I want this fashion show to be a success so I walked, blind and knock-kneed, smh! As mad and nervous as I was, it did help me get out of my comfort zone and do something that I would have never done. The fashion show was a success but I can bet you this…you won't catch me walking in nothing else!!!
During tonight's House of Curves, egos flare when Kenyatta hires new Bella René team member, Kelli Flournoy to take the business' PR to a whole new level.  Kendra and Kelli rumble at the spring lookbook photoshoot and Kenyatta reveals her high-fashion line.
Check out our favorite beef from tonight's episode: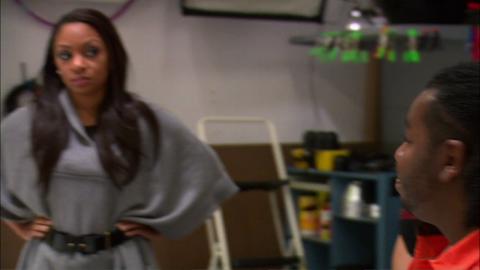 Joining the Bella René team has been wonderful…for the most part. Kenyatta is a brilliant designer and I believe in her vision 100%. On the other hand, a couple of members of her team will be detrimental to the success of her company. Kendra and Milan are not productive members of the Bella René team and should be replaced with more qualified candidates.
I've personally witnessed Milan exhibit insubordinate behavior on multiple occasions and it's completely unacceptable. Her job title is assistant and she seems to do everything but assist! Kendra clearly had an issue with me from day one and she allowed it to show in her work performance. Based on a comment she made, I believe she's intimidated by my strong personality and the fact that I'm thin.
I have no issue being a thin woman and working with a plus-size brand, led by a confident plus-size woman. Kenyatta is extremely talented and she understands business. I'm a professional and my responsibility is to execute the Bella René vision as it relates to public relations.
One of my first tasks was to work with the team to produce the Spring Look Book. We certainly had our creative differences, but I simply reminded them that they needed to trust me to do what I do.
Kenyatta and I met in the computer lab at Jackson State University. We always dreamed of what it would be like to design and produce our own line of clothing. We were young, ambitious dreamers…and we dreamed BIG. I have always been there to support Kenyatta and I take my role, as her best friend and creative director, very seriously although I know it doesn't always come off that way.
I was happy to welcome Sherlynda back to the team. I'm a firm believer in teamwork but when Kenyatta made the decision for us to work together to find a venue for the Spring Show, it became clear that Sherlynda and I didn't see eye-to-eye. We both wanted the show to be great, but that's about all we agreed on. She just doesn't know how to translate "chantilly."  Sherlynda is always too eager to smooch Kenyatta's big ol booty! So, it's nice when it doesn't work.
Kenyatta and I have always butted heads, but we push each other to excel. Bringing Sherlynda back on board caused a glitch in the matrix and threw off the balance in the office. It went from me and Kenyatta pushing each other to Kenyatta and Sherlynda pushing me around!
Ultimately, Sherlynda does not intimidate me. My work speaks for itself and everyone knows that I will deliver – even if it involves a few cocktails. At the end of the day, I pulled off the Spring show with spit, duct tape, and a smile. It was nice to remind Kenyatta what's up.
Kenyatta and I have had our ups and downs. I just hope that our friendship won't suffer because of the new work dynamic. I can't handle Kenyatta and Sherlynda tag-teaming me. Thank god Milan is in the office, at least I know my fam's got my back.
During tonight's season premiere of House of Curves, Kenyatta is getting ready for her 2013 Spring Preview. Not only does she still need to work on the dresses, she is also attempting to add more pieces into the line and still try and find a venue for the preview. While all this is going on Kenyatta gets Rene to agree to an upgrade in between their bickering over Bella Rene finances and fashions.
Check out our favorite mother/daughter "convo" from tonight's episode definitely not lacking MAJOR SASS: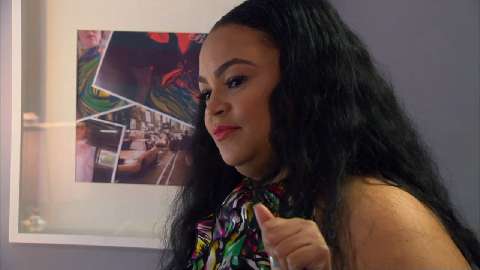 The Business of Beauty Isn't Always So Glamorous
This June, WE tv's Thursday Night Lineup Spotlights Two Businesswomen Whose Passion Drives Their Industry—and their Colleagues—Crazy!
WE tv's L.A. Hair RETURNS FOR SEASON TWO THURSDAY, JUNE 6 AT 10 PM ET/PT AS KIM KIMBLE CONTINUES TO WHIP CELEBRITY MANES – AND HER STAFF – INTO SHAPE
For a Sneak Peek at L.A. Hair Season Two, Visit: http://youtu.be/SfFCofF0lCY
NEW ORIGINAL DOCU-SOAP HOUSE OF CURVES, PREMIERING THURSDAY, JUNE 13 AT 10 PM ET/PT, FOLLOWS PLUS-SIZE DESIGNER KENYATTA JONES IN THE SKINNY WORLD OF FASHION
Check out the First Look at HOUSE OF CURVES Here: http://youtu.be/8mbtXMYnfDc
NEW YORK – May 2, 2013 – This June, WE tv puts the spotlight on two fierce and fabulous women who are in the business of making people look good, and who all about their own businesses: Kim Kimble in season two of L.A. Hair and Kenyatta Jones from the brand-new unscripted series, HOUSE OF CURVES.
WE tv's stylish Thursday nights kick off with season two of L.A. Hair—premiering Thursday, June 6 at a special time 10 PM ET/PT with 11, one-hour episodes—following hairstylist to the stars, Kim Kimble. This season, Kim rises to new heights while whipping the manes of celebrities including Chaka Khan, Michelle Williams, Vivica Fox, Lil' Mama, LisaRaye, Kyla Pratt, Faith Evans, Fantasia, LeToya Luckett and Debbie Allen. She continues to build up her business and brand while dealing with the drama of her stylists. With the construction on her new salon finally complete, Kim relocates her staff to her high-end salon in the heart of West Hollywood, where she's adding an A-list nail technician to her team of high-strung diva stylists. She also sets out to expand her brand with the creation of new hair products and services, but her lofty ideas and chaotic schedule become difficult to balance, so she brings in her bossy sister Leah to help her manage it all. But working with her no-nonsense older sibling for the first time in her life may have just brought Kim more drama than she can handle.
In the season two premiere, Kim unveils her posh new West Hollywood salon. Her first order of business: personnel changes. China is demoted and Kim's sister takes over as salon manager; Kim also hires a celebrity nail tech who wreaks havoc the minute she steps foot in the salon; and season one's cliffhanger is finally answered: will Angela be persona non grata in Kim's new salon or will she give her a second chance? After the season premiere, new episodes of L.A. Hair will air in its regular timeslot Thursdays at 9 PM ET/PT (beginning June 13).
HOUSE OF CURVES, premiering Thursday, June 13 at 10 PM ET/PT with six, hour-long episodes, follows the passionate and hilarious trials of Atlanta based, plus-size clothing designer Kenyatta Jones as she kicks down the doors of fashion with her six-inch stilettos, teetering on the precipice of making it big in the fierce world of fashion. Kenyatta is the CEO of Bella René and has designed her dream wardrobe for plus-sized women. With her two best friends from college, an assistant with an attitude and her mother as her main investor, Kenyatta and company will do anything to expand their brand. Mishaps, misadventures and in-house bickering may get in the way of the dream, but in the end, her girls always have Kenyatta's back. The team is put to the test when Kenyatta and crew compete for recognition in the fashion capital of the world, New York City.
In the premiere episode titled "Full Fashion Frenzy," Kenyatta and her team prepare for Bella René's Spring Fashion Show. Kendra, creative director for Bella René, and Sherlynda, seamstress and former creative director for Bella René, try to outdo each other as they vie to be Kenyatta's number two. When the right buyers don't show up at the fashion show, Kenyatta makes a power move to get Bella René back on track.
GET MORE L.A.Hair AND HOUSE OF CURVES AT wetv.COM
For more information on L.A. Hair, go to wetv.com for exclusive videos, photos, bios and blogs from cast members. And don't miss a single snip, curl or weave with WEtv.com's Glam & Go virtual salon where show fans can experiment with fierce L.A. hairstyles by simply uploading their photo to test out different looks.
Check out WEtv.com's exclusive HOUSE OF CURVES meme generator and share your favorite quotes from each episode, as well as create your very own! Also, visit WEtv.com for sneak peeks, must-see freakout moments and a first look at Kenyatta's Bella René showroom. Like us on Facebook and follow @WEtv on Twitter (hashtag: #LAHair and #HouseofCurves) for inside information and special giveaways.
L.A. Hair is produced for WE tv by Eyeworks USA, and executive produced by JD Roth, Todd A. Nelson, DJ Nurre and Heidi Dahmen. Lauren P. Gellert and Suzanne Murch serve as executive producers for WE tv.
House of Curves is produced for WE tv by Pie Town Productions and executive produced by Tara Sandler, Jennifer Davidson, Scott Templeton and Jennifer Lane. Lauren P. Gellert and Kate Farrell serve as executive producers for WE tv.