All is fair in love and war…until it isn't. For two weeks, five couples will be placed in a house to work on their relationships, and see if what they have is worth fighting for or worth leaving.
On the upcoming season of Marriage Boot Camp: Reality Stars, Jim & Elizabeth Carroll work with some of the most dramatic TV personalities WE've ever seen, as the couples work to whip their relationships into shape.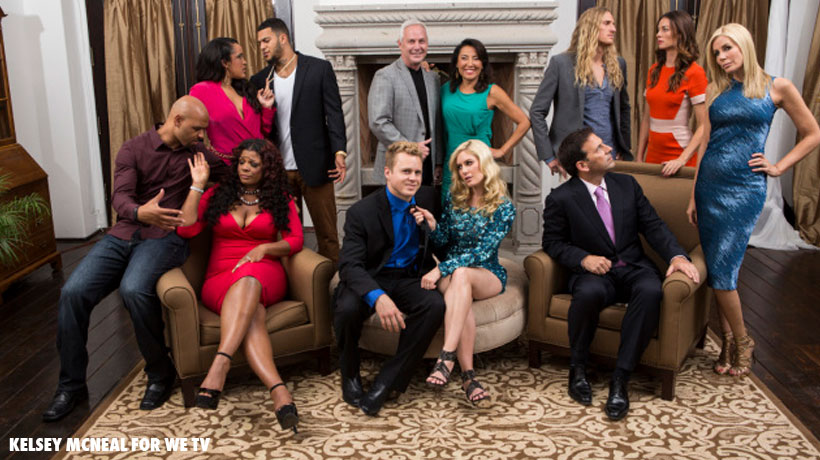 Who will stay, and who will leave their significant other?
THE COUPLES
Spencer Pratt and Heidi Montag (more commonly known as Speidi) made their debut on reality tv in 2006, and the couple has been bringing the drama ever since. You either loved or hated their relationship on MTV's, The Hills, but one thing's for sure…Speidi is headed to Marriage Boot Camp. The couple has been together for eight years, but the infamous scene of Spencer kicking Heidi out of his car after finding out she 'might be pregnant' continues to play in our minds (and Heidi's too, WE're sure).
There's another Bad Girls Club girl in the house (literally)! Natalie Nunn and her husband, Jacob Payne, join the roster of couples that are working on their marriages! Forget the honeymoon stage – after marrying in 2012 on WE tv's Bridezillas cheating allegations around Natalie and Jacob flooded the headlines of magazines, which WE think could lead them to the brink of divorce!
R&B Divas star Syleena Johnson and husband Kiwane Garris (retired NBA player) joins the cast. On the surface, it looks like they are the perfect family who has it all, but busy schedules and taking care of their children has caused a disconnect. After going to couple's therapy on the last season of R&B Divas, the two head over to Marriage Boot Camp to enlist the Carrolls' expertise as Syleena and Kiwane strive to work on their communication issues.
It's not all fun and games for former Survivor cast members Tyson Apostol and Rachel Foulger. The competition is fiercer than ever as Tyson and Rachel must decide whether or not their relationship is worth fighting for, or if it's another competition that will leave them defeated. They've been together for five years but aren't married yet – what's holding this couple back from saying 'I do'?
After a dramatic season on Real Housewives of New York, former housewife Aviva Drescher and husband Reid Drescher join the rest of the Marriage Boot Camp: Reality Stars cast as they work on their marital issues. Her husband's demanding work schedule as a Wall Street investment banker and Aviva's public blowups could be causing a rift in their marriage.
But WE'll just have to wait and see…
Last Saturday on David Tutera: Unveiled: David plans an anniversary party for reality TV star Shayne Lamas & husband Nik Richie, but concerns around his daughter's birth may cause him to miss the party. A private plane brings David's baby Cielo home.
Check out David's candid recap:
At Jessica's photo shoot, she was a little bit nervous and a little bit shy. I've done SO many shoots that I knew she needed some guidance, so I took control and told her what I thought would look best on her (and off of her), and I felt empowered again, with maybe a twist of controlling, lol.
Ever since my car accident and a couple other things happening in my life, I've been in need of some therapy. But I'm not really the type of person to admit it. But when it was said, I knew it was the right time to go. I truly want to get over the fear of driving and know some answers to some questions I have in my life. In my first therapy session, the therapist inspired me to take control back in my life, and she had some wise words for me. I took her advice and took some control and grabbed the world by the balls in a couple of ways. It felt good to have that energy back again, which I lost for a while.
Hank and a couple of his friends were about to head out of town for a guys camping trip for a week. He left at a time when I was PMSing and EXTREMELY hormonal, so I got kinda mad that he was leaving, and I didn't know why I couldn't go! Haha. I feel like one of the guys, lol. Why can't girls go on a guys' trip?! So he left on the trip, and I was mad and needed a therapy session. When Hank first told me he was going, I was all for it. Then he left and I was like, 'WTF!'. So I needed another therapy session.
I decided to take out my IUD because I was feeling so good in my life and where it was. I was gaining control back in all the other parts of my life. This was another place. I've had my IUD since little Hank was born because we wanted to make sure it was the right time to have another baby. This was just that time. Did I tell Hank this was the exact time we were doing it? No, lol, but who cares! I went to the doctor with Jessica and all of a sudden it was just done. No more IUD. Just like that! When I told my therapist I was planning on taking it out without him, she looked at me like, 'uh oh!' So finally Hank came home from the camping trip, and I told him what I had done… and then… we went right at it lol!! HE was so happy and ready to go. So it was a win-win for everyone! Stay tuned….
My experience with David as my party planner was an absolute dream come true! I have always been a fan of David's work and feel privileged to have had his magical mind plan my party! Nik and I wanted to give our family and friends something we never got to give them, as we eloped in Las Vegas. This is not just a party, it's our family finally uniting as one. I wanted every detail of our party to be glamorous and have an unforgettable ambience. The moment I met David, I knew this was like winning the party planning lotto. Every woman should have David on party speed dial. I not only took home an amazing time with family and friends, I took home a new friend in David, as when he works with his clients, he is personal with YOU, and that's what makes a wonderful planner in life! I owe him a lifetime of sparkles because he made our night shine like a fairy Godmother!
My daughter Jazz is turning 17 and I wanted her to have an amazing party because she has never actually had a birthday party. She tried to sell me on a quinceanera and a sweet 16, but financially, I wasn't prepared to give her the party I felt she would enjoy. Now that she is turning 17, I am ready to do it big! I decided to seek David Tutera's help since he is the man when it comes to major events and creating memorable moments.
Here's the problem…I had no idea that David was so darn stubborn, opinionated and a total control freak. He's basically the male version of ME! Naturally we would butt heads when he would not allow me to be involved in any way and wanted me to relinquish full control of my daughter's special moment. I wanted to help and be involved to ensure that my daughter's party was everything she imagined and David wasn't having it. I am super protective of my daughters, so when we disagreed on everything from wardrobe to theme, I really didn't know how this party was going to come out.
On party night, I was a little worried because we had no involvement in the planning of Jazz's Super 16+1, but I must say that David pulled it all together. The venue was very reminiscent of the theme we suggested. Jazz was able to perform and he even brought an old school hip-hop performer to be a part of Jazz's special night. I wanted Jazz to have this moment be remembered forever and I believe that David achieved that for us.
Last Saturday on
David Tutera: Unveiled
: David plans a Super 17 bash for Basketball Wive's
Tami Roman's
daughter,
Jazz
while planning his baby shower. Tami thinks David can't pull off a hip hop party, but David has a big surprise: rap artist DaBrat.
Check out David's recap:
Our friend, Pat McAfee, we have known since Hank played for Colts. Pat surprised us with a trip to Big Bear, CA for our 4-year anniversary. We were so excited because it was perfect timing for a lake trip. Time to get out, let loose and just be free for a while. Adult playtime! So, we headed up and stayed in the most amazing cabin on Big Bear Lake. It was so perfect and the perfect way to spend our anniversary. It was a beautiful location, surrounded by our friends and having so much fun. We did all kinds of water activities like jet packing and just living it up! Jet packing was so much fun, but in order to get to where it was, we had to go through some of the nastiest and coldest water EVER. It was so worth it!
After a fun filled day we started having some drinks and something happened that we didn't expect… DRAMA. I'm a person who lives my life in the moment. I'm a free spirit and when I'm around people that I'm comfortable with I get a little crazier than usual. When I tried to get Pat's girlfriend to let loose with me, things turned sour. She thought I was trying to force her to go crazy, but it was just a comment I made that was taken way too far. Pat went to stick up for her and started a little bit of heat between us. It really sucked, because I always thought of Pat as the fun, crazy guy I would want to go on a lake trip with, but after he started saying things I began to feel differently. I got a little sad and was like… "Where did my buddy Pat go?" The trip started out fun and carefree, but ended up being anything but. Drama- free, yeah right! I get that some people are not like me, but I do believe people should speak up for themselves. Also, if people are going to be around me, they need to know it's going to be a FUN time. I'm never pressuring anyone to do anything, I'm just encouraging fun.
What would you guys do?
So… Hank and I got in a big fight over the cancelled trip to Turks and Caicos, which led to some awkward silence around the house and some days of awkwardness. It was one of those "who's going to apologize first" hold out situations. I went to do Playboy radio and Pat showed up late so it ended up being a stressful and crazy couple of days.
I had a really good talk with Jessica about the fight and realized I had forgotten about the anniversary. She asked me if I was doing something, but at that point I was like, hell no we aren't even talking. Jessica helped me realize the right thing to do is move on and apologize; as well as surprise the hell out of him that I remembered our anniversary. It would be the perfect time to make things better. I surprised Hank by dressing up, looking real good and making reservations at one of our favorite restaurants. Of course, Hank was amazing and surprised me that he remembered our anniversary by getting me a picture book of Little Hank. Which, of course led to make-up sex. LOL
What I took from this was that no matter how big the fight and awkward the silence… all you need is some talking to your friends, a little romance and some make up sex to fix it!
WE have all seen Tami Roman go off on Dave Edwards on Real World Los Angeles for the infamous "it wasn't not funny" blanket incident, and more recently lay into every basketball wife to grace the TV screen. However, it seems like David Tutera hasn't! He must have been in for quite a surprise when he went toe to toe with the likes of this well known reality star. Lucky for you, the #WEtvInsider caught up with David to get some intel on what you can expect from this Saturday's "Super Sweet 17" episode with Tami and her daughter, Jazz. You won't want to miss it, especially since Tami and Jazz will be chatting LIVE on Twitter Saturday night at 9p.
On Last Saturday's David Tutera: Unveiled, David's bride has bizarre requests, from a black bridal gown to a life-sized T-Rex. David makes a bet with the bride when he hears her brother wants to be a bridesmaid & wants to wear a dress to the wedding.
Watch David's recap here: